Shopping Cart
Your Cart is Empty
There was an error with PayPal
Click here to try again
Thank you for your business!
You should be receiving an order confirmation from Paypal shortly.
Exit Shopping Cart
As an Amazon Associate, I earn from qualifying purchases
| | |
| --- | --- |
| Posted on March 30, 2021 at 7:45 PM | |
High Protein Angel Food Cake (Keto)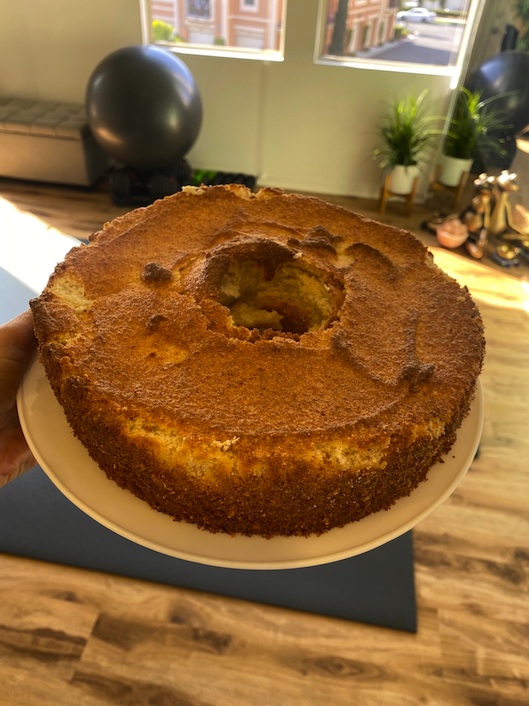 Keto Angel Food Cake
Perfect keto angel food cake! It's light and airy, with the perfect angel food texture. It's completely grain-free and dairy-free.
Prep Time: 30 minutes Cook Time: 50 minutes
Total Time: 1 hour 20 minutes
Servings: 12 servings Calories: 128kcal
Equipment
Angel Food Pan
Ingredients
Instructions
1.) Place an oven rack in the second lowest position and preheat the oven to 325F. Line the bottom with parchment paper (see recipe notes). Do not grease the pan.
2.) In a medium bowl, whisk together the granular and powdered sweeteners.
3.) In a large bowl, whisk together the almond flour, protein powder, half the sweetener mixture, and the salt. Use a sieve or strainer to sift the flour mixture into another large bowl. Do this back and forth between the bowls 3 times.
4.) If you do not have a sieve, simply use a fork to fluff up the mixture for several minutes, to break up clumps and make it lighter and airier.
5.) In another large bowl, beat the egg whites with the cream of tartar until frothy. With the beaters running, slowly add the remaining sweetener until the whites hold medium peaks (the tips should flop over slightly when the beaters are lifted).
6.) Add the extracts and continue to beat until the whites hold stiff peaks (tips should stand up straight when beaters are lifted).
7.) In four separate additions, carefully fold the flour mixture into the egg whites until well combined (a large silicone spatula works best for this). Be sure to scrape the bottom of the bowl well to mix in any ingredients that may have settled there.
8.) Spread the batter in the prepared pan and smooth the top. Wipe off any drops of batter from the sides, and lightly tap the pan on the counter a few times to release any air bubbles.
9.) Bake for 40 to 50 minutes, rotating the pan halfway through baking, until the top is uniformly golden and springs back when lightly pressed.
10.) Remove and let cool in the pan 20 minutes, then turn the pan upside down and let cool completely.
11.) Run a sharp knife around the inside of the pan, and around the tube in the center, to loosen the cake. If the pan has a removable bottom, you can simply push up to release the cake. Otherwise, invert the pan over a cake plate and tap the bottom to release the cake.
As an Amazon Associate I earn from qualifying purchases.

| | |
| --- | --- |
| Posted on April 8, 2019 at 4:05 PM | |
STEP 1: Cut Back on Sugar and Starches
STEP 2: Eat Protein, Fat, and Vegetables
STEP 3: Lift Weights 3x Per Week 

SUMMARY:
There are many ways to lose a lot of weight fast.
However, most of them will make you hungry and unsatisfied.
If you don't have iron willpower, then hunger will cause you to give up on these plans quickly.
The plan outlined here will:
Reduce your appetite significantly.
Make you lose weight quickly, without hunger.
Improve your metabolic health at the same time.

Written by Kris Gunnars, BSc on March 14, 2018



/